TTT SPRING USTA ADULT TENNIS 2018
undefined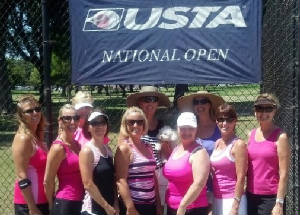 undefined
TTT 3.0 Gals go to Sections to represent our area for the Spring USTA 2012 season.
We are so TTT proud!!!
3.0 TTT LADIES WIN USTA FALL 2012 SECTIONALS!!!
We are glad you decided to be a part of TEMECULA TEAM TENNIS!
Players will have to Join TTT and pay their membership fee before they will be scheduled to play in a TTT USTA Match.
THREE THINGS YOU WILL NEED NEXT:
1) YOUR PERSONAL USTA NUMBER
2)
GET YOUR TEAM NUMBER YOU NEED TO SIGN UP
3) A CREDIT CARD TO PAY USTA MEMBERSHIP & USTA TEAM FEES
HELP!..... I DON'T HAVE A PERSONAL USTA NUMBER.
If you do not have a personal USTA number, you will have to sign up to be a member of USTA and then they will issue you a number. Read the information below VERY CAREFULLY and then click on the link to get your personal USTA number.
PLEASE NOTE: IF YOU DO NOT HAVE A USTA RATING, PLEASE READ THE INFO BELOW CAREFULLY.

If you are NOT already rated with USTA, you will be asked a series of questions and be rated by your answers. Make sure to look at the rating that is given to you at the end. DON'T ACCEPT IT IF YOU DISAGREE WITH THE RATING. It will allow you to type in what you think your rating should be. Remember that you can always play up a Level, but you can't play on a team that is lower than your rating. Example: If you are rated 3.0 you can play 3.5. If you get rated 3.5 you can not play 3.0.

Ladies 4.0 Team at Sectionals Spring 2011:
Cristina Leivas, Susanne McMichael, Terese Burt, Michelle Shingler, Cindy Stafford/Townsend, Dalise Jackson, Rebecca Villar, Teresa Johnstone, Josie Hendrix